LOREENA McKENNITT – 'LOST SOULS'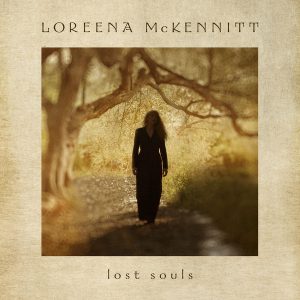 I got a phone call during August 2017 from a good friend and producer Stuart Bruce about a session he was working on down at Real World Studios. It was with a female singer/songwriter/musician called Loreena McKennitt and he thought I'd be perfect for the job. 
So, the next day I loaded the Ford S-Max with a mixture of my DW drums + Bosphorus Cymbals, plus a few vintage snares and off I went to the studio. The material was a pleasure to work on and Loreena gave me room to play through my own idea's as well as working on the ideas that they had come up with. I also got to use a combination of mallets, brushes, shakers, odd drum tunings, tea towels on toms, hand percussion as well as more conventional drum kit ideas. 
The band were all superb players and the sessions went extremely well, I almost beat Dudley Phillips (bass guitar and double bass) at table tennis too.……But, not quite! 
I will be performing with the band again in late October 2018 on the first leg of the 'Lost Souls' world tour in South America.