Rob is pleased to announce that he is now set up to record remote sessions.
If you are an artist looking for Rob to play on your track then please drop him an email: robert.brian70@googlemail.com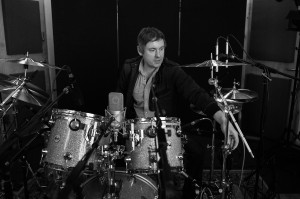 Rob has drum kits to cover every sound scape that might be required, from 1960's vintage drum kits to 3 modern DW kits in all sizes from 8" tom to a 22" bass drum.
His Vulcan cymbal vault is vast and his collection of snare drums is something to be admired. An endorsement deal with Remo drumheads means that he has constant supply of fresh heads and sounds for any of your musical needs.
Rob has chosen to work with Producer/Engineers Jon Buckett & Pete Hewington at Earthworm Amber Studios to provide high quality professional recordings ideally suited to your project.
The professionally designed live room provides clear and present drum recordings with a sympathetic and controlled natural ambience.
Rates depend on the number of tracks and each inquiry can be discussed to best fit your requirements and budget.
Instruments & Equipment:
DW Maple Collectors Kit : Toms – 8", 10", 12", 13", 14"; Floor toms – 14", 16", 18"; Bass drums – 18", 22"; Snare drums – 14" x 7" Wood Shell and 13" x 5" Wood Shell
Vintage kits; Ludwig 1968 Super Classic (13" Tom – 16" and 18" Floor Tom – 22" Bass Drum)
Vintage Snares: 1950 – Slingerland Radio King; 1957 – Ludwig 400; 1968 – Ludwig Pioneer; 1969 – Ludwig Jazz Festival 1967 – Slingerland Student Model 1977
Microphones : More top of the line microphones than you can shake a stick at – from AKG, Neumann, Royer, Sennheiser, Mojave, Shure, DPA, Electro-Voice and more..
A/D conversion : 48 channels Protools HD3 & Otari Radar II (classic)
Outboard : A great mix of vintage and industry standard pre-amps, eq & compression from the likes of Tube Tech, BAE (Neve), Manley, Summit, Focusrite, Calrec and Soundtracs, to name a few.
We look forward to hearing from you and to working with you!