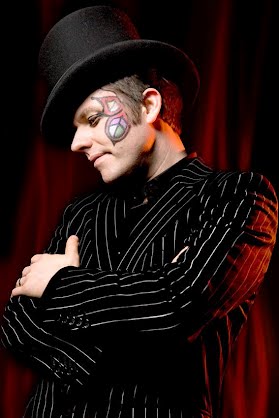 Robert Brian – Biography
I can't deny that sitting watching Top Of The Pops in the late 70's was an amazing experience watching bands like Blondie, The Stranglers, The Police who were all so different. The guy that really turned my head though was Gary Numan who appeared on the screen as a white faced robot-like character and sounded completely different to all the other bands. The heavy Moog keyboard sound in his music was such a breath of fresh air from all the guitar driven sounds, it made me want to play music!
Then not too long afterwards I found Dad's drumsticks and a Louie Bellson drum book. I just started tapping along to records and something clicked, I was totally hooked to drums and drumming!!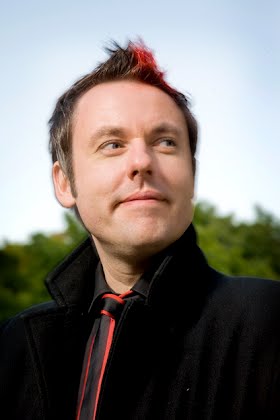 For the first few months it was just sticks on a pillow and Dad patiently talking me through the rudiments. Eventually a Premier wedge practice pad came on the scene and a Premier bass drum pedal. Then many an evening was spent in the dining room practicing my ruffs and Paradiddles with my parents in the other room trying to watch television. Dad had me reading music from the start and was very keen for me to get my traditional grip working well, which I can now only thank him for.
My first drum kit was a silver Premier Resonator bought from Assembly Music in Bath, which made Christmas 1981 an amazing experience!
The kit was played non-stop and I think I slept next to it for a month at least. I played along to all my favorite records and by now I had discovered the music of The Beatles. Any excuse to bring the drums into school was taken by me and I appeared in the school play as Ringo Starr and played a drum solo in my English lesson as part of my course work!
One night Dad wanted me to watch a Frank Sinatra concert on television which featured a guy called Buddy Rich on drums. I had seen him on Dad's record sleeves and I had heard bits but nothing that really got me going. I was sat crossed legged with my practice pad and sticks tapping away gently through the concert then this old guy came out on stage and sat behind the drums… Then my life changed forever!!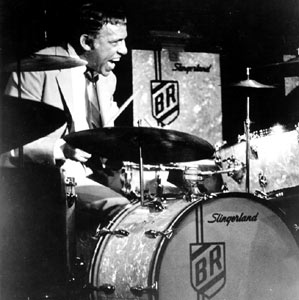 In 1984 Dad took me to see Buddy Rich at the Colston Hall in Bristol and again in 1986. I will never forget the drive and power that Buddy had, you could feel it filling the room and your whole body. I still collect Buddy records, bootleg video and audio performances from all over the world. He remains a drummer very close to my heart in many ways and is a continuing inspiration to me.
In these years I also discovered funk in the form of the Average White Band, progressive rock through Yes and many other acts who to most of my friends were seen as VERY uncool. For me, it was a nice offset to the pop scene that was going on around me.
In 1984 I got my first Ludwig kit with a Ludwig 400 snare drum, which remains one of my fave snare drums of all time. It was amazing to own a Ludwig kit and I felt just like my hero's Buddy Rich, Ringo Starr, Joe Morello and Ian Paice.
I had discovered Ian Paice and Deep Purple through friends of mine and as soon as I heard Ian play I knew there was a connection between his style and Buddy's. I spent weeks listening to Made In Japan and Deep Purple In Rock figuring out just what he was playing and trying to get the same speed and sound etc…
I joined Corsham Town Brass Band and played the scene until Dad thought it was time to take me to some jazz gigs in Bath where I could 'sit in' with some of his jazz buddies. That 'sit in' has lasted 30 odd years and I have learnt so many things from those guys that no books could possibly cover. It was 'in at the deep end' stuff but the kind of education that lasts a lifetime and that only comes from people doing it 24/7 with a whole wealth of knowledge.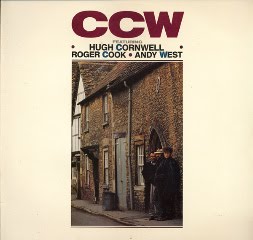 In 1992 I was working with a band called The Deep Six who recorded a 10" single on Settlement Records. We were approached by Hugh Cornwell who had recently just left The Stranglers. Our lead singer Andy West knew Hugh and singer/songwriter Roger Cook and they got together to form 'CCW'.
Gigs included a festival in Vienna and Ronnie Scotts Club in London with an MTV interview and performance.
From working with Hugh I met producer Ted Mason who enrolled me in the live band for Coati Mundi who was touring the UK in 1993. This was an amazing experience as Coati is an incredible musician and his stage show was extremely well choreographed and demanded the musicians to really focus in on what he was doing, or indeed what he might do next. Coati's band was tight and funky and he allowed me the space to try things out and took me under his wing.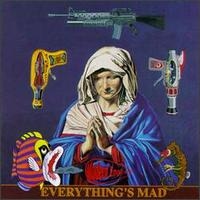 Ted Mason hired me again in 1996 to tour America with the band 'Modern English' who had hits through the 80's in the US. This took me all over the States and Canada with appearances on American TV on both national and cable stations. It taught me how to pace myself on long tours and focus on getting good performances every night.
In 1997 I toured for the first time with Innes Sibun and played tracks on his album 'Stardust'. I worked with Innes until 2012 on and off, there is a strong musical link between us which is kind of unspoken. When we are on stage the musical telepathy is racing and it remains one of the most musically challenging and rewarding partnerships of them all.
Throughout all this time I had been playing countless one nighters around the towns and cities of England which is the reality of life for a working musician. I have seen many sights and sounds, some good – some bad but I would not change it for the world. It can be lonely at times but driving home at 2 in the morning after a gig with no other traffic on the road is a very peaceful meditative time for me and a rare sort of clarity somehow appears.
In 1998 I had the pleasure of working with one of my heroes, Peter Gabriel. I was booked to do a jazz session at Real World and to be there at 10am. On my arrival, I was told it was a session for, and with, Peter himself. The band was made up of fellow jazzers so there was a nice vibe and to hear Peter singing these standards, was just amazing. I wish I had tapes of the session as it was so much fun. He was great to work with and he looked after us all so well for the whole day, a real nice musical memory.
As a jazz drummer I have been very lucky to have played in trio's at gigs and festivals that have backed visiting front men such as Jason Rebello, John Critchenson, Alan Barnes, Art Themen, Derek Nash, Chris Biscoe, Andy Sheppard, Tommy Whittle, Jim Mullen, Dick Pearce etc.
Worth noting in the jazz field as well was the fortnightly jazz gig with the Bath sax player Danny Sheppard. This quartet played at The Farmhouse but also around the country and to play with such a great man for many years was an awesome experience. I learnt so much about music and life from Danny and I can't thank him enough for gracing me with his playing and friendship.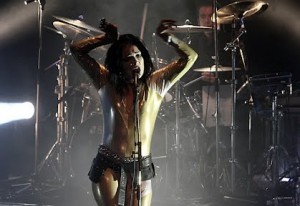 In 2007 I was approached by bass player Charlie Jones (Goldfrapp) to play for the new Siouxsie Sioux touring band. I heard the album 'Mantaray' and loved her new sound and could hear the possibilities in the music for my playing. The set has me playing full on punk, latin, ¾ jazz brushes, triggers, playing with and firing off samples, and lots of click track work. All this I love and with a band of great musicians it is a pleasure to work with everybody on such a great project.
Siouxsie is great to work with and she allowed me to put my stamp on the older Banshees' songs, which I did without ever taking anything away from the original drum parts.
The experience and exposure from this project was huge with Jools Holland and Jonathan Ross TV appearances as well as selling out big venues around the world.
Having many famous faces coming to Siouxsie gigs is something that I have got used to, but seeing Gary Numan at many of our shows, stood there watching me, was ALWAYS something of a buzz!!
In 2012 I moved to endorsing DW Drums and it was a real pleasure to work with a drum company that really supports its artists. The company look after me wherever I am in the world with excellent drum kits both in the studio and on the stage. My Collectors drum kit is a dream and sounds awesome every time I use it.
The musicians I've worked with over the past few years: Loreena McKennitt, Laura Pausini, Michel Polnareff, David Rhodes, Goldfrapp, Simple Minds, Charlie Jones, Andy Partridge, Miles Kane, Black Box, Jason Rebello, Roger Cook, Alan Barnes, Pete Gage, Colin Moulding have all brought new experiences/challenges and I continue to learn on every gig/session.
I've also written articles in the world famous drum magazine Modern Drummer and travelled all over the world to perform concerts and drum clinics. Being asked to perform on the Drum Channel was a real buzz, my hour long show was broadcast 'live' on the internet in 2012 and that was a really big career moment for me.