Sep
23
Mon
2019
Robert Brian Drum Clinic!

@ The Swan Theatre.
Sep 23 @ 8:00 pm – 10:30 pm
I am really looking forward to this clinic at the beautiful Swan Theatre in Yeovil. Ryan and all the guys at Drum Dog & Waterloo Music are a great bunch and it'll be a fab night!
I will be demonstrating new and fresh ideas from my next educational package 'Technique & Musicality' Volume II, and there will be a Q&A and plenty of opportunities to learn and take away plenty of new and useable drumming material. Whether you're a seasoned pro or a beginner, I guarantee there will be lots to check out! 
There will also be some give aways as well from Hardcase, Remo, Cympad, DW and others. So bring along some good questions and you can win yourself some top drumming goodies!
It'll be a great night of playing drums, talking drums, trying out drums and simply living drums!!
See you there.
X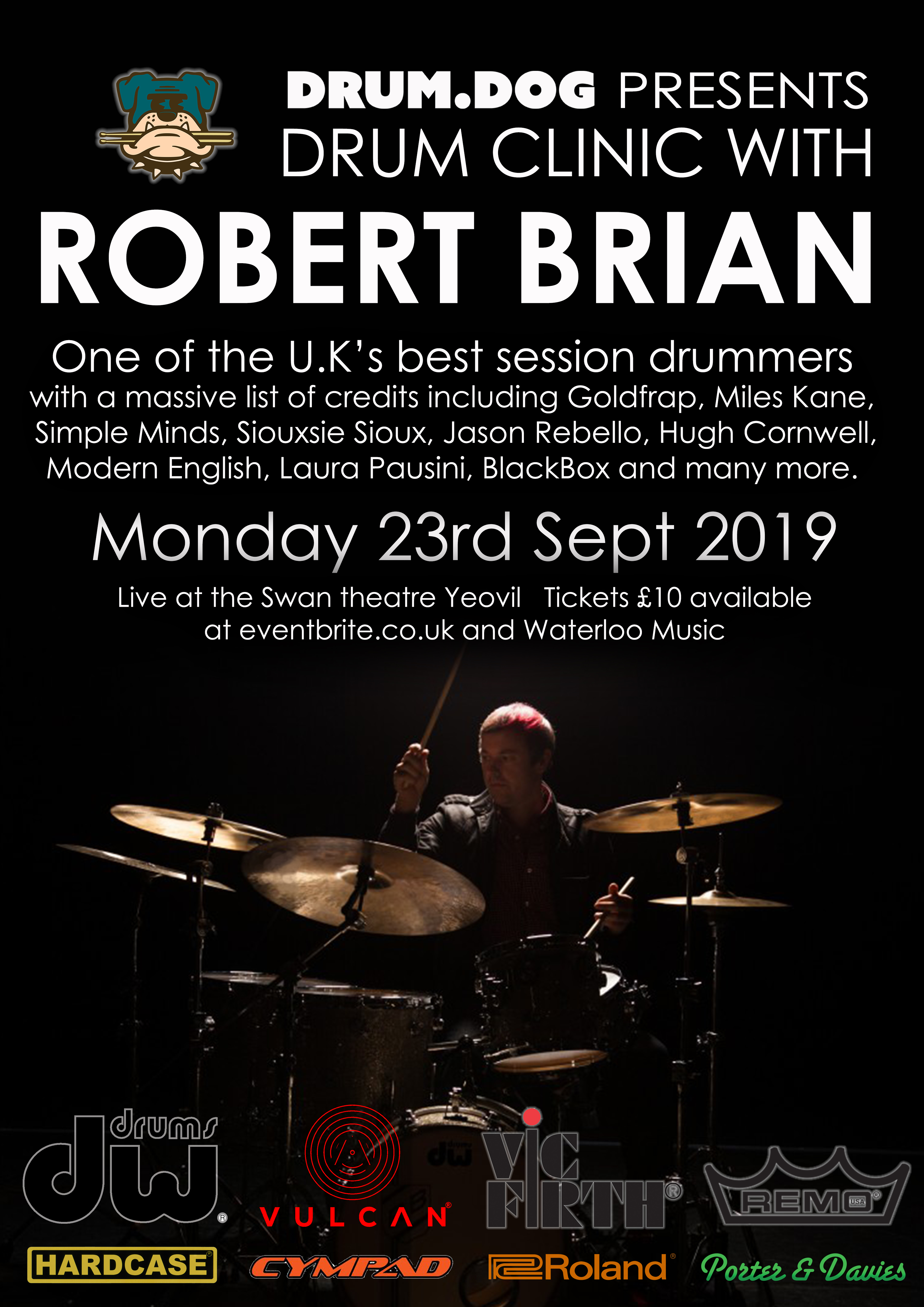 Feb
21
Fri
2020
Palace Drum Camp.

@ Tudor Grange Academy
Feb 21 @ 12:00 pm – Feb 23 @ 6:00 pm
I'm proud to be on the roster with so many great players and each of us will be playing workshops over the weekend covering a wide variety of drumming subjects.
I will be covering:
* Mic'ing/recording your drums:
Have you ever wondered the best way to record your drum kit at home with just 2 or 3 mics?
Or wondered how to create those amazing drum sounds that you hear on your favourite records from plug ins and so on?
Then this session will break down some of those mysteries behind mic'ing drums in both a 'live' and studio situation. Rob will be joined by Jon Buckett who runs Earthworm Studios in Swindon who will give you all the knowledge that you need from behind the glass. Whilst Rob will share with you his experience on the subject from the players perspective, in front of the glass.
* Creativity & freedom on the drum set:
This session is designed to set us free from the rules and to introduce us to new ways of expressing ourselves on the drums. It doesn't mean that all standard practice should be ignored, far from it, it's more taking all that formal drumming knowledge we have and shaping it into new systems of expression that we can use on the kit.
* Exploring & finding new sounds on your drum kit:
We will exam each part of the drum set and begin to rethink how we can explore new directions in our music making. Looking at the drum set as individual parts means that we can begin to hear what is crucial to us in our beats/music making process. Demonstrating different techniques acoustically that will allow you to change your drum sound in seconds, in both a 'live' and studio situation.
Check the website for more details: www.palacedrumclinic.com/event/palace-drum-camp-2020/
See you there!
Contact: Matt Green
Phone: 07973 840 635
Email: info@palacedrumclinic.com
VENUE: 

Tudor Grange Academy, 

Redditch

,

Worcestershire

B98 7UH.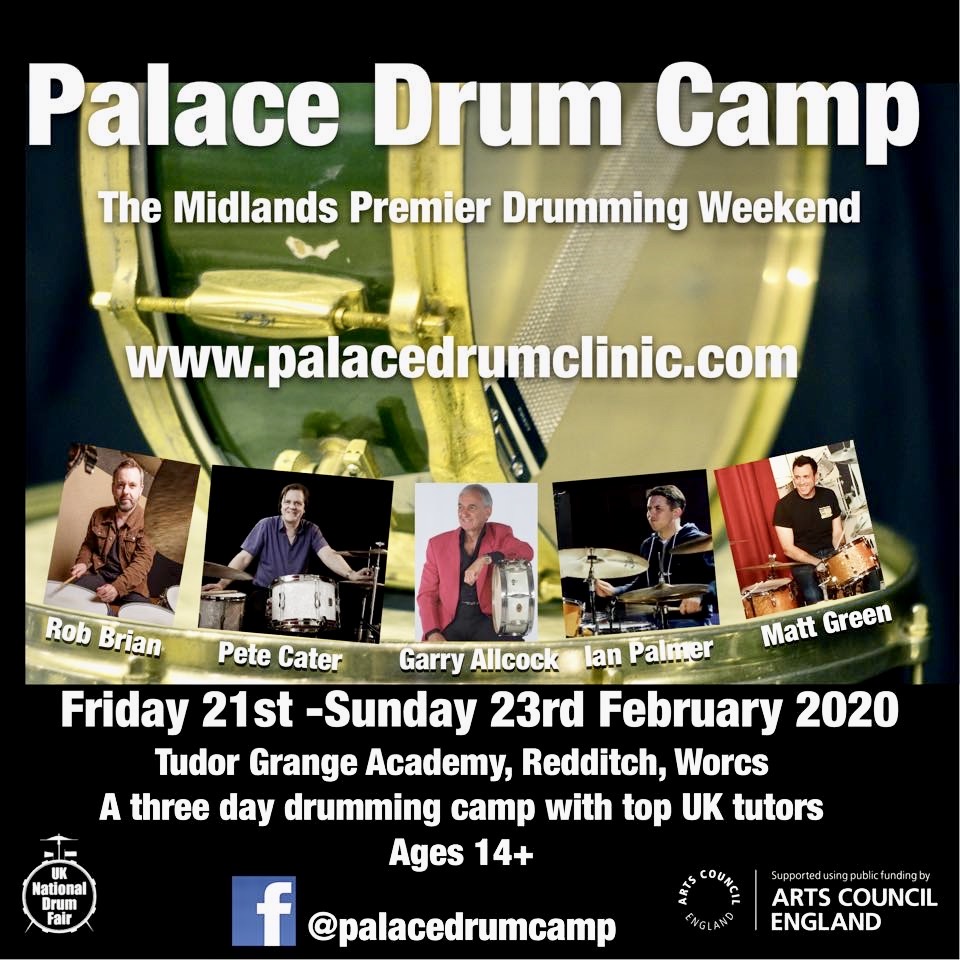 Sep
15
Tue
2020
Online Komedia/Bath Drum Masterclass

@ Komedia, Bath
Sep 15 @ 7:30 pm – 9:00 pm
I'm very happy to announce that I'll be performing an online masterclass from Komedia-Bath in conjunction with DW Drums and Komedia Live. This will stream live at 7:30 GMT on Tuesday September the 15th via my YouTube channel.
This beautiful venue means a lot to me, it was the Beau Nash cinema for many years and was the grandest cinema in the city of Bath. It's a gorgeous room and I've seen many great films there including one of my all time fave's, Tim Burton's 'Batman' from 1989.
My parents, aunties, uncle's, cousins & grandparents all saw films here and I feel there's a lot of love and memories for me within those four walls. To be the first musician to do a masterclass from here means a lot to me and I cannot wait for you guys to see the show.
The show will stream 'live' via my YouTube channel so subscribe now for more updates and footage about the show: www.youtube.com/user/ringofunk11
Here's few pic's from last weeks rehearsal.