Jan
25
Fri
2019
Robert Brian Drum Masterclass – Planet Drum.

@ The Crypt
Jan 25 @ 6:00 pm – 9:00 pm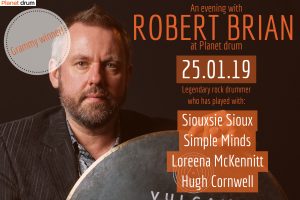 Planet Drum invites you to a drum masterclass with UK session drummer Robert Brian.
Rob has been playing professional for 35 years and has worked with:Loreena McKennitt, Laura Pausini, Goldfrapp, Siouxsie Sioux, Simple Minds, Peter Gabriel, BlackBox, Andy Partridge/Colin Moulding XTC, Miles Kane, Hugh Cornwell, Herbie Flowers, Modern English, Clara Ponty, Jason Rebello, Coati Mundi, Innes Sibun and more.
Rob is currently on a world tour with Canadian artist Loreena McKennitt and has just won a Grammy with italian singer Laura Pausini, for her album 'Fatti Sentire.'
Rob will be talking about his experiences in the studio & on the road and he'll be sharing gems of information that he feels all working drummers should know. He will also give you plenty of exercises and patterns to take away, and you'll get the chance to ask questions and hear Rob play studies from his upcoming educational package 'Technique & Musicality' Volume II.
For more info on Rob and his career: www.robertbrian.co.uk
Feb
21
Thu
2019
Palace Drum Clinic!

@ The Palace Theatre,
Feb 21 @ 7:30 pm – 10:30 pm
This will be my second appearance at The Palace Drum Clinic and I am really looking forward to it!
My visit last year was a great experience and this years will be just as good I am sure. Last year I started with an opening solo and then 29 minutes later I stopped playing!!
This time I promise to do plenty of playing, but also demonstrate some things that you can take away and add into your drumming and your practice sessions. Matthew Green runs this fantastic drummers gathering and also plays at the clinics, demonstrating many drumming skills and techniques etc.
If you are looking at improving your drumming skills then get yourself a ticket and we'll see you there!
Tickets available here: http://www.redditchpalacetheatre.co.uk/whats-on/all-shows/palace-drum-clinic-february