Experience
Robert Brian is based in the Bath/Bristol area and is a busy session/touring drummer.
He also performs drum clinics/masterclass' around the country for DW drums and Bosphorus cymbals.
Rob has worked/toured with Clara Ponty, Michel Polnareff, Goldfrapp, Miles Kane, Laura Pausini, Siouxsie Sioux and appeared on records with Simple Minds, Hugh Cornwell, Modern English, Innes Sibun and Charlie Jones. 
In 2013 Rob became a Drum Workshop endorser and played 2 sold out shows at the Royal Festival Hall with Siouxsie as part of Yoko Ono's Meltdown Festival.
Rob is featured in many Rhythm Magazine articles and has a 6 page interview in September 2013's edition. He has also written articles for the most famous drummer publication in the world which is the coveted Modern Drummer magazine. Here Rob wrote a series of articles that were published in the education section, a great honour for any drummer.
In 2011 Rob released a DVD called 'Technique and Musicality' which received 4 out of 5 reviews in the UK drumming magazines, and 3 out of 5 in the world famous Modern Drummer magazine.
Keep a look out for future album and gigs as well as DW/Bosphorus clinic tours featuring Rob's new exciting Bosphorus cymbal range, the amazing XT Editions!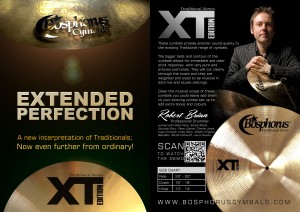 Rob has worked with:
Clara Ponty, Goldfrapp, Laura Pausini, Michel Polnareff, Simple Minds, Siouxsie Sioux, Peter Gabriel, Hugh Cornwell, Black Box, Miles Kane, David Rhodes, Jason Rebello, Andy Shepperd, Coati Mundi, John Critchenson, Andy Partridge, Colin Moulding, Jamie Cullum, Six By Seven, Alan Barnes, Innes Sibun, Art Themen, Modern English, Derek Nash, Tommy Whittle, Dick Pearce, Jim Mullen, Danny Sheppard, Chris Biscoe, Kenny Lynch, Roger Cook, The Deep Six, Adrian Utley, Herbie Flowers.
Working with Hugh Cornwell, Coati Mundi & Modern English.
Working with Charlie Jones, Simple Minds.
Television Appearances
With Siouxsie Sioux
Festival Internacional de Benicàssim – 2008
Friday Night with Jonathan Ross BBC1 Season 14, Episode 10 – Aired 3/21/2008
Later with Jools Holland Aired 02.11.07
(Hard-Fi / Siouxsie Sioux / Richard Hawley / Laura Marling / Kaki King)
Transmission Channel 4 2007
Taratata 2 et 4 Air Productions – 2007
BBC Electric Proms BBC Electric Ballroom – 2007
ITunes Festival Eiffel Tower – 2007
With Modern English
America Morning Show – 1996
With CCW
MTV Europe – 1992
Radio
With Siouxsie Sioux
BBC Radio 1 with Colin Murray Live BBC Electric Proms from the Electric Ballroom. 2007
With Kaytu
BBC Radio 2 Janice Long Sessions 2007
With Innes Sibun
Long Island Blues Warehouse New York – April 2009
Blues Meets Rock Radio Netherlands – 2008
BBC Radio 2 The Paul Jones Blues Show – 2001
BBC Radio 2 The Paul Jones Blues Show – 1997