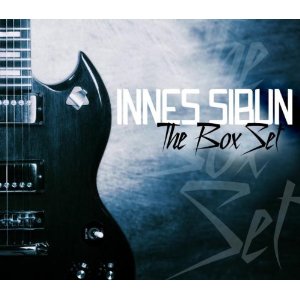 Innes Sibun – The Box Set.
This record was recorded at a local venue in a pub called 'The Queens Head' in a little town called Box, just outside Bath.
It was recorded in their venue at the rear of the pub and it was a great night, all of our partners and friends/musicians came along and we had fun. The drum solo on this CD was the first outing for a lot of drumming phrases and shapes that I would include in my teaching DVD and drum clinics. The 7/8 foot ostinato got its first recorded release here, it was one of those moments where as soon as I started it I thought "Man, just keep going and dont mess up!"
It turned out great and even though it is quite a long solo I think it has enough twists and dynamic turns to be interesting for a non drummer as well. The band were on top form that night after many 'one nighters' and European tours etc..
I like to think this album has the 'warts and all' approach of a real Innes Sibun gig, full of musical passion/improvisation/humour and very exciting to watch/listen to.