BOSPHORUS CYMBALS
Rob's new XT Edition Cymbals
Check out Rob's new range of XT Edition cymbals, they are clear, crisp attacking cymbals that suit any major style of music. He crafted the idea giving the cymbals larger bells and more contour to the shape of the cymbal. This allows for a precise stick response on rides and perfect attack and decay on the crash cymbals. The hi-hats have very different weights and shaped bells both on top and bottom of the cymbals, this allows for the bottom hat to be heavy and the top to be very bright. Both together they produce perfect jazz hi-hat 'chick' sounds and when played in a rock style they have both the weight and brightness to penetrate through the guitars clearly.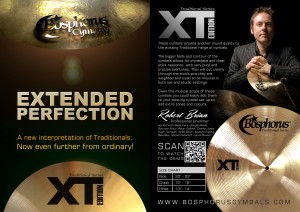 Check out Rob using them in this promo clip:
They are available to order and hear at your nearest Bosphorus dealer!
I have been with Bosphorus for about 9 years and I have seen the quality of the cymbals and the ranges grow in that time.
The first set I picked out from Sutherland Trading in Wales, who distribute the cymbals. They were amazing but it took a long time to select them. Their cymbal vault was well stocked and the cymbals were of varying tonal qualities.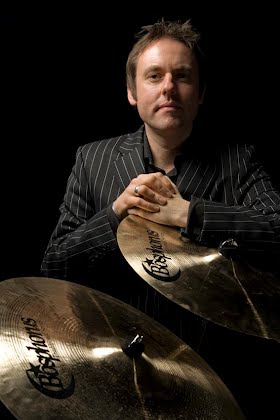 I was impressed by the level of difference in each cymbal. The set lasted me a very long time and I still have the 13" hats, 20" ride and one of the 16" crashes. I'm afraid the other 16" crash did not make it through a Innes Sibun tour, which is my fault as I was getting a little excited!
This set I used on Innes Sibun's album 'TailDragger' and  Adam's Apple  'Love Unknown' Cd. One is a full on blues/rock album and the other a jazz record, yet this range of cymbals sounded awesome on both sessions. I love the fact that cymbals, if selected well, do not have to be just jazz cymbals or rock cymbals they can be used for all styles if played musically. The 13" hats go everywhere with me and were used on the first Siouxsie Sioux tour and the recent Simple Minds recording sessions. They are also featured on the Charlie Jones 'Love Form' album which has just been released, they sound so full that most people think they are 14" hats!
The second set I have had for a year and they consist of 8" Splash, 10" Splash, 14" Hi-hats, 16" Crash, 18" Crash, 21" Ride, and two 18" China's.
They are all in the Traditional Range and they basically picked themselves, the time it took to pick my original set was halved second time around. This proves to me that Bosphorus are making better cymbals and I look forward to watching further improvements in the future.
This set, minus the splashes and 14" hats, I use on the Siouxsie Sioux gigs.